Kirtan Love Fest 4
Saturday, March 28, 2020
7:00pm - 11:00pm
Miami Ironside, Miami, FL
The Kirtan Love Fest is back for it's 4th incarnation and Grammy nominated spiritual rapper Solé will be our headliner, adding Conscious Hip hop with Kirtan, Medicine Music, Yoga & Tantra. This event will be at Miami Ironside, an amazing community venue that's working with the festival to help develop a high vibrational, transformational music and yoga experience. Kirtan Love Fest community artists Wynne Paris, Mantra Grooves, Guti & Vega, Shakti Kirtan, Psychic Dove, Mohini Devi Dasi, and the Mystic Mantra band will all be back too. Vegan food vendors will be at the event, and live painters will be adding color and magic to the ambience of the event aand there will be a short yoga class with live music being led by Radha & Benjamin.
The number of tickets available will be limited to 150 so get your now.
About the Artists:
The evolution of Solé – from Hip Hop star to Yogini, Tantrika and conscious hip hop artist began in the summer of 1999 with her appearance on J.T. Money's #1 hit single "Who Dat". Her debut album "Skin Deep" on DreamWorks Records in September of 1999 achieved gold status and garnered her a nomination for "Rap Artist of the Year" at the Billboard Music Awards. Soon, she began feeling disenchanted with the music industry, no longer wanting to be a part of the promotion and glorification of the destructive messaging and programming that was being pushed and promoted in "urban" music.
Instead, Solé embarked upon a 20 year spiritual journey and began evolving into the woman she is today. Not only is Solé a gifted performer and artist, she is also a healing wellness practitioner, offering Sacred Medicine through music and various other healing modalities. She's a Jivamukti Yoga Teacher, Reiki Master, Mystical Dance Teacher, Black Belt in Kung Fu, Herbalist, Belly Dancer, Red Tent Facilitator and Water Priestess. She has a Certificate in Plant-Based Nutrition from the T. Colin Campbell Center for Nutrition Studies.
Her highly anticipated return to music is guided by a desire to offer music that is empowering and inspiring. "ENCODED", her long awaited follow up to her freshman project, "Skin Deep", was released September 28, 2019 and is available now on all major digital and streaming platforms.

Wynne Paris is kirtan pioneer who has performed well over 2,000 kirtans. After years of playing as a pro rock musician, the seeds of Karma bore fruit in the mid 90's, when he was invited to sit in for a kirtan with Amma the hugging saint. In 1997, Wynne began collaborating with Krishna Das and appears on several of his albums (Pilgrim Heart, All One, etc). Since then he has been a tireless proponent of chanting. His music has been featured on radio, tv and film. Wynne is a co founder of the Lovelight Yoga & Arts festival, which may be the mid Atlantic's grooviest yoga Fest.
Traditional Kirtan from SHAKTI KIRTAN takes people right to a place of the heart and this group consists of members of an ashram practicing Shiva Kriya yoga.
Psychic Dove was founded in 2016 by Dante Lee in Miami, Florida. A project moved by the old spirit of Rock and Roll. Psychic Dove has a message of world peace, love, self-empowerment, and compassion for the planet and all of its creatures. Psychic Dove's music is made for the revolution of the mind, the body and the soul. His live performance is a spiritual ritual aiming to expand consciousness evoking a form of church, with music being the religion and love being God.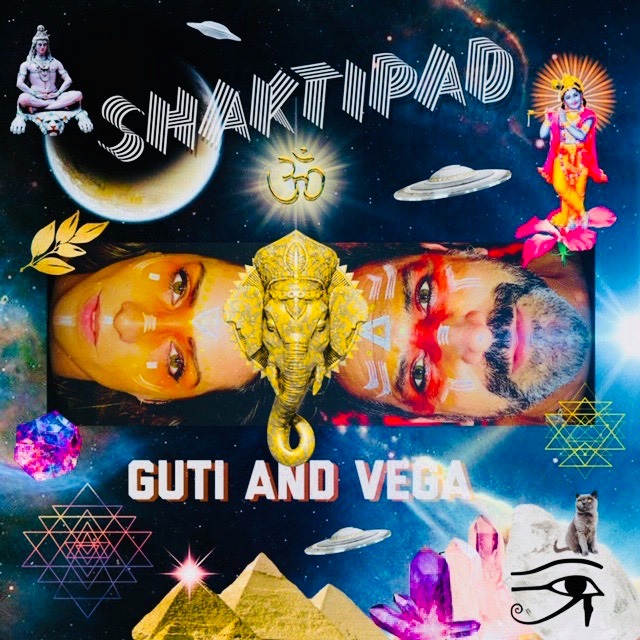 Anya Guti is a yoga teacher, mystic and artist, dedicated to collective and personal evolution through spiritual awakening and yoga. Tato Vega is an embodiment of high vibes and happy grooves. He has been a lead singer and percussionist all his life in many rock and roll bands. Together, Guti and Vega channel a higher frequency energy and mystical mood in their music, creating an enchanted and sacred experience that enables individual and a group consciousness to heal, reconnect and transcend to higher and happier state.
MANTRA GROOVES is a Miami based electronic kirtan band that delivers spiritual music with a funky and electronic style. Led by Karen Thomas Gonzales, the Grooves take you to exalted places in the heart and beyond.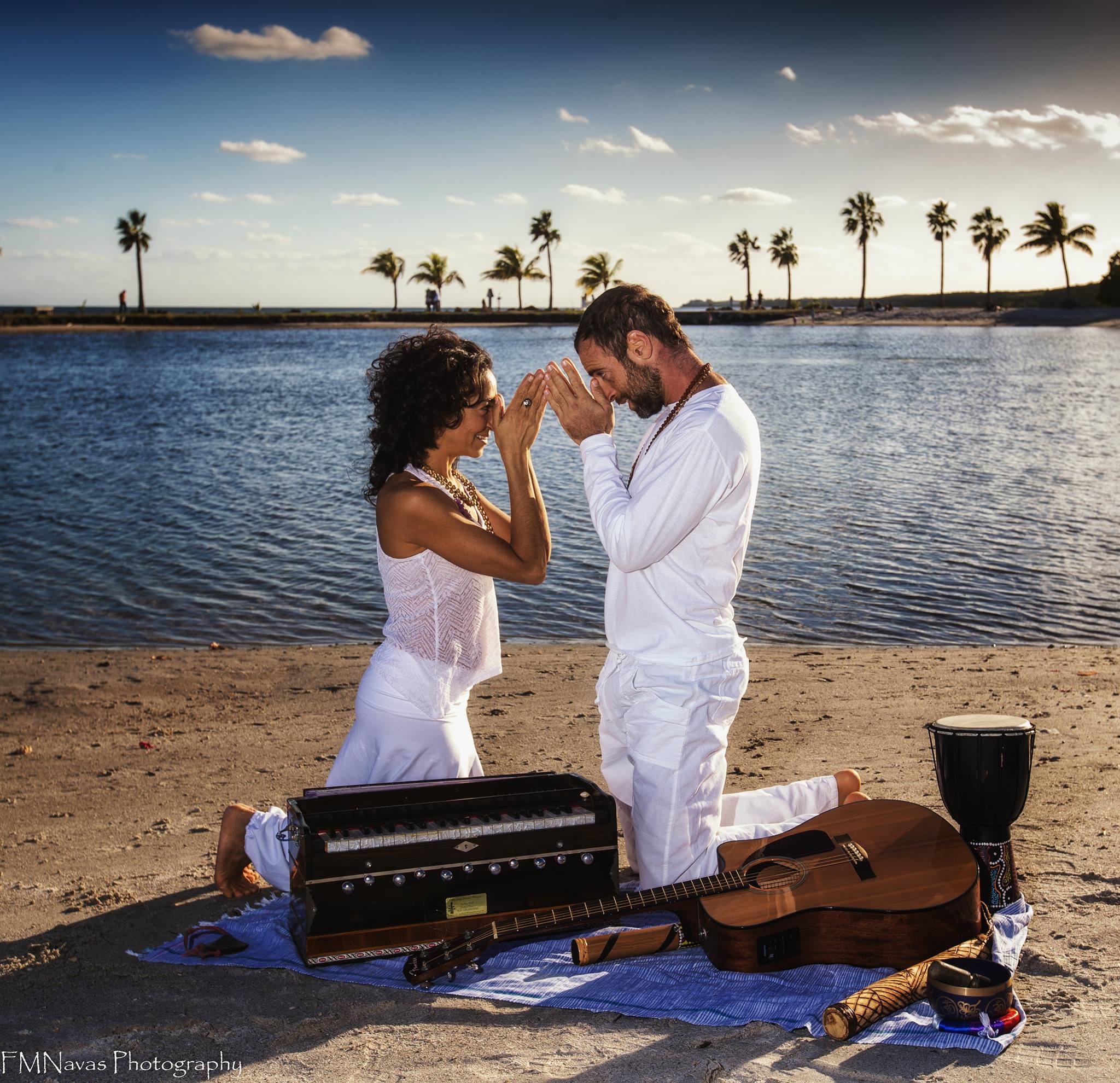 RADHA & BENJAMIN are dynamic kirtan duo that are the owners of Lightrail Yoga and are devoted performers of Kirtan and yogis. They will be offering a yoga and live music segment during the evening.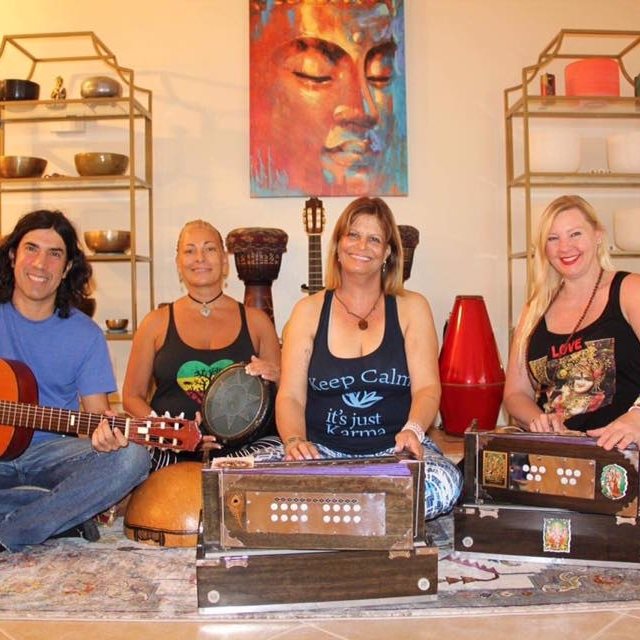 MYSTIC MANTRA BAND performs traditional Kirtan and infuses world, folk, medicine, and tribal elements into their music.
The band delivers a unique blending of vocal harmonies and instrumental sounds, using a mix of traditional Kirtan instruments along with percussion, Native American, and sound healing instruments to create an experience of connection with the heart and soul.
The seeds for Mystic Mantra were planted in 2017. In a different incarnation, the band has performed at several venues including the Virginia Key Grassroots Festival and the South FL Yoga Expo.
Band Members:
Ivonne Hernandez -Harmonium, Kartals, Doumbek, Tamboura, Didgeridoo, Flute, Tambourine, Calabash Drum, Tibetan & Quartz Bowls, Gong, Vocals
Malgorzata Biardzki -Harmonium, Kartals, Tambourine, Tibetan & Quartz Bowls, Native American Frame Drum, Gong, Vocals
Grecia Garrett -Tablas, Mridangam, Kartals, Djembe, Cajon, Doumbek, Ocean Drum, Chimes, Rain Sticks, Shekere, Vocals
AtonRa RAdanatha is a painter, musician, percussionist extraordinaire, dancer and general lover of life.
Victoria Brunacci is the Director of Synergy Yoga on Miami Beach and leads Yoga Training s and retreats worldwide. Victoria was raised in the mountains of Brazil learning to understand and respect the laws of nature and Divinity. She is certified in Swami Sivananda's Integral Yoga, and traveled extensively through India studying in Mysore the Ashtanga Vinyasa system at Sri K. Pattabhi Jois' Yoga Research Institute. Victoria is also certified as a Reiki Master level III, Acupressure/Shiatsu and Thai Massage where she studied under master Michael Buck of the Vedic Conservatory. Victoria has a passion for teaching Kids Yoga and is a true Bhakti Yogi, with an intention of bringing awareness and raising consciousness on the planet, one soul at the time.
NAOMI SERRET is a dancer and the founder of Vie Boheme productions, a group that unites creatives across multiple platforms; artists, musicians, dancers, producers, filmmakers, and writers; bringing them together to design, produce, and host unique events throughout Miami
advance tickets $20 through Brightstar tickets $30 at the door
Join the Conversation
Follow the event with #lovelightfest