LIVE CLIMATE: EARTH DAY CONCERT
Friday, May 28, 2021 - Monday, June 28, 2021
Thursday, April 22
3:00 PM PDT (6:00 PM EDT)

Celebrate Earth Day's 51st year with us!
Tune in and turn on your love for the planet with a virtual concert featuring performances by:

Jai Uttal
Manose
Mustard's Retreat
John Gorka
Perla Batalla

The 90-minute concert has a suggested donation of $15 ($5 minimum). Proceeds benefit Riverkeeper.org.

With the indefinite postponement of Live Climate's live concert events, Executive Producer Alisa Maynard was inspired to bring Earth Day's anniversary to a digital format. Live Climate remains true to bringing the best Music with a Mission to our audiences near & far.

This is our home ~ we must all do our part for preservation and positive change.

We hope you're able to catch the virtual event as scheduled. However, if you register, you'll have on-demand access for 14 days.
---

Meet the Artists



Jai Uttal,
Grammy-nominated sacred music composer, recording artist, multi-instrumentalist, and ecstatic vocalist, combines influences from India with influences from American rock and jazz, creating a stimulating and exotic multi-cultural fusion that is truly world spirit music.
Having traveled extensively in India, where he met many great saints and singers, Bhakti Yoga became his personal path. Jai has been leading, teaching, and performing kirtan around the world for close to 50 years, creating a safe environment for people to open their hearts and voices.
---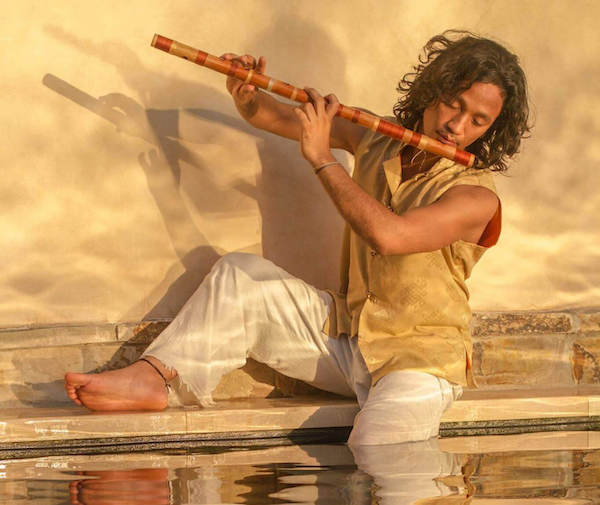 Nepalese Indian flute (bansuri) maestro Manose has spent the past 10 years touring the world and recording chart-topping albums with Deva Premal and Miten. As well as collaborating with artists as diverse as Grammy-nominated Jai Uttal and bluegrass musician Peter Rowan, Manose has released multiple solo CDs, including Dyhana Aman: Meditation of No Mind.

Manose's hometown, Boudha, Nepal, stands on the ancient route from the Himalayan mountains down into the Kathmandu valley. It was there that eight-year-old Manose fell in love with bamboo flute music when one night a breeze wafted its song through his bedroom window. Manose has since made a demanding study of Indian raga music, acquiring technical mastery and an astonishing ability to improvise.
---

Mustard's Retreat has always sung the songs they enjoyed and cared about, regardless of the trends of the music industry and pop culture. They are committed to simply being themselves, not chasing fame or brass rings, while delighting in and connecting with their audiences as if they were family. The honesty of what they present onstage and the extensive body of outstanding original songs and recordings all contribute to a fiercely loyal audience that continues to grow. "Music to cure what ails you" was how one reviewer in the 1970s described them, and that is as true now as it was then.
They've traveled more than a million miles and performed more than 6,000 shows, from pig roasts and pool parties to Lincoln Center Out of Doors, The Barns at Wolftrap and the Kennedy's Center's Millennium Stage.
---

From New Jersey, John Gorka is a world-renowned singer-songwriter who got his start at a neighborhood coffeehouse in eastern Pennsylvania. Though small, Godfrey Daniels was and is one of the oldest and most venerable music institutions and has long been a hangout for music lovers and aspiring musicians. In the late 1970's, John was was one of these aspiring musicians. Although his academic coursework at Moravian College lay in Philosophy and History, music began to offer paramount enticements. Soon he found himself living in the club's basement and acting as resident MC and sound man, encountering legendary folk troubadours like Canadian singer-songwriter Stan Rogers, Eric Andersen, Tom Paxton and Claudia Schmidt. Their brand of folk-inspired acoustic music inspired him, and before long he was performing his own songs – mostly as an opener for visiting acts. Soon he started traveling to New York City, where Jack Hardy's legendary Fast Folk circle (a breeding ground for many a major singer-songwriter) became a powerful source of education and encouragement. Folk meccas like Texas' Kerrville Folk Festival (where he won the New Folk Award in 1984) and Boston followed, and his stunningly soulful baritone voice and original songwriting began turning heads. Those who had at one time inspired him – Suzanne Vega, Bill Morrissey, Nanci Griffith, Christine Lavin, Shawn Colvin – had become his peers.
---

Grammy-nominated singer-songwriter Perla Batalla consistently earns critical acclaim for her unique voice and culture-merging compositions.  Formerly a Leonard Cohen backup singer, the Los Angeles born vocalist launched her solo career with Cohen's encouragement. Since then she's recorded seven albums, been featured in films and television, and taken her unique sound on tour in some of the most prestigious venues around the world. The L.A. times writes, "Batalla is comfortable in both English and Spanish, proud of her mestiza heritage, musically adventurous and always accompanied by impeccable performers…. above all, she is a born storyteller with a rambunctious sense of humor."