Lotus Rising - Afternoon Bhakti Retreat
Saturday, June 3, 2023
2:00pm - 6:00pm
Blue Lotus Center, West Bend, WI
Lotus Rising: An Afternoon Bhakti Retreat
with Seán Johnson & The Wild Lotus Band
at Blue Lotus Farm in West Bend, WI
Join Seán, Alvin, Gwendolyn, and Narada for a sweet afternoon of chanting, live music, storytelling, meditation, ritual, gentle movement, guided journaling, community, contemplation and celebration. The afternoon will include time together as well as space to roam and explore the 64 acres of Blue Lotus.
Special thanks to Kaita Bliffert and Traci Schwartz and Blue Lotus Center for hosting this event! 

About Blue Lotus Center

The 64-acre property of Blue Lotus Farm & Retreat Center includes a 4 acre pond, in-ground heated pool, indoor pavilion with screened porch, 2 miles of walking trails, canoes, kayaks and paddle boats, a meditation labyrinth, and swings!
Blue Lotus Farm & Retreat Center is located at: 5501 County Road M, West Bend, WI 53095.


Depending on the weather, we will either be outside or in the indoor pavilion, with windows and doors open.  
Cost: $108. Limited capacity. Early registration is highly recommended.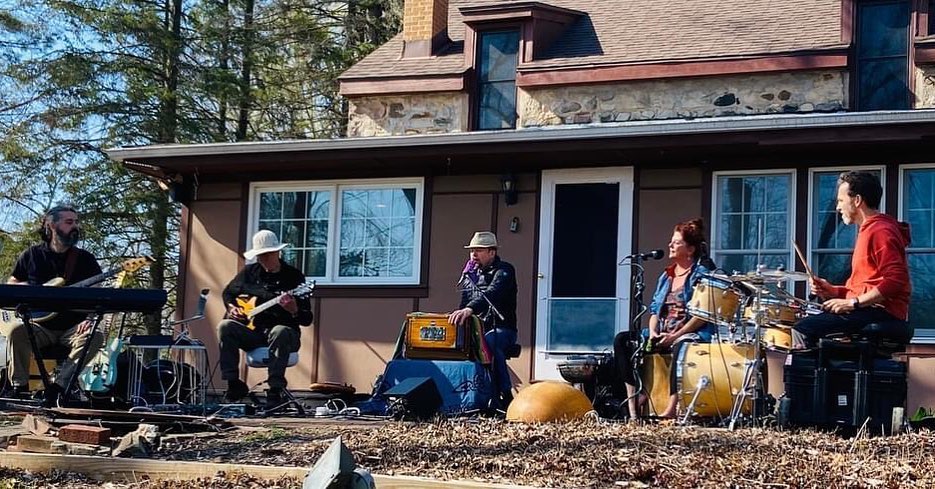 About Seán Johnson & The Wild Lotus Band
"The much-beloved band evoke, conjure and celebrate that universally felt yet impossible-to-define essence that lies at the heart of all things, what Bob Marley once called 'a natural mystic, flowing through the air.' " – Alan di Perna (Rolling Stone, Creem, Billboard)
"A joy to listen to for anyone who appreciates wildly creative music." – Yoga Journal
"A hybrid of East and West that will bring joy to your heart and get your body boogieing. – Yoga Chicago
Seán Johnson & The Wild Lotus Band merge conscious lyrics, sacred chants from the spiritual traditions of yoga and beyond, and roots, rock, gospel, and global grooves to create a universal style of cross-cultural spiritual music. 
They are known for creating interactive, soul-stirring songs to dance and sing along with as well as to grieve and heal. Their music has appeared on Putumayo World Music, they are the first mantra music band to play The New Orleans Jazz Festival. Their latest album Mystery was named one of the best albums in Louisiana music by Offbeat Magazine, and they have over 125,000 monthly listeners on Spotify.
The band includes Seán on vocals and harmonium; Alvin Young on 6 string fretless bass & electric guitar; Gwendolyn Colman vocals and percussion; and Narada Wise on drums.
In addition to being a musician, Seán is also a respected yoga teacher and teacher trainer who teaches at conferences and retreat centers internationally. He is the founder of Wild Lotus Yoga in his beloved hometown dubbed "New Orleans' Home for Heart-Centered Yoga," and Soul School, an interdisciplinary yoga teacher training program that focuses on teaching yoga with skill, heart, and imagination. 
Seán has a Master's degree from The Naropa Institute-Oakland with focus on teaching chant as spiritual practice, apprenticing there with south Indian musician and teacher Russill Paul, author of The Yoga Of Sound. He is the co-curator and coordinator of Putumayo World Music's yoga music series, and a co-founder of The Auricle Collective – a global community of chant and spiritual musicians. Seán is passionate about his Irish roots and ancestry, a pillar of his spirituality. He co-leads online Celtic Spirituality gatherings and retreats in Ireland each year with his friend, Ireland native Mary Meighan, founder of Celtic Journeys. In all these roles, Seán relishes creating a playful, tender, brave space for people to open their hearts and voices, and embrace their innate creativity.