Maestro Ali Akbar Khan's Centennial Concerts EDT
Saturday, May 14, 2022 - Sunday, May 15, 2022
The Second Concert of Maestro Ali Akbar Khan's Centennial Celebrations!

Our year-long celebration of Maestro Ali Akbar Khan's 100th birthday continues with our May concert event! These online performances are a tribute to the life, teachings, and music of Maestro Khan, one of the greatest sarod players of our time. The second concert in our series will take place on Saturday, May 14th at 7:00 pm (worldwide).

This event will begin with a performance by sitarist Purbayan Chatterjee, with tabla accompaniment by Bickram Ghosh. Ending the evening will be a sarod performance by Tejendra Majumdar, who will be accompanied on tabla by Yogesh Samsi.

These performances are hosted by Maestro Khan's school, the Ali Akbar College of Music—a non-profit organization seeking to spread the teachings of this ancient tradition to any and all who wish to learn. For more information about upcoming events throughout this Centennial year, please visit aliakbarkhan.com.



Meet the Artists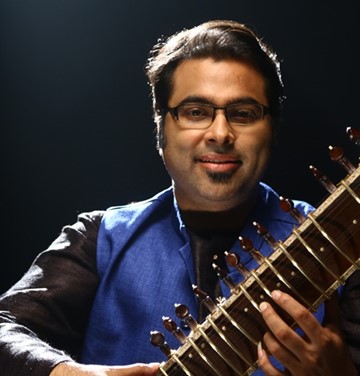 Purbayan Chatterjee is considered one of the finest sitar players in Indian Classical music, and has attained a very special place for himself among the musicians and music lovers around the world. Purbayan belongs to the famous Senia Maihar Gharana, the school established by musical genius Baba Allauddin Khan, the guru of such artists as Ustad Ali Akbar Khan on the sarod, and sitar players Pandit Ravi Shankar and Pandit Nikhil Banerjee. Purbayan also studied directly with Ustad Ali Akbar Khan.

Purbayan is a multifaceted musician. Along with his concerts of North Indian raga music, he also performs with musicians from the South Indian raga tradition and world musicians all over the globe. He has participated in various fusion projects with jazz, and his music has been appreciated by jazz greats, such as Chick Corea, Bella Fleck, and Pat Metheney. Purbayan is also an astounding vocalist and has lent his soulful voice to many mellifluous compositions.

With a career spanning 26 years, his soulful and dexterous performances have evoked praise and admiration in various music festivals in India and abroad. Awards and accolades came his way early in life. Purbayan was a recipient of the President of India Award for being the Best Instrumentalist of the country at the age of 15. He has also received the prestigious Aditya Vikram Birla Award for excellence and contributions to the field. He has been awarded the highest artist-grade by the All India Radio.


---

Bickram Ghosh is one of the most well-known names in the world of Indo-fusion music. The son and disciple of the illustrious tabla maestro Pandit Shankar Ghosh and well-known vocalist Sanjukta Ghosh, Bickram also learnt the nuances of Carnatic percussion from the great maestro of the mridangam, Pandit S. Sekhar. Bickram has performed the world over with the greatest names in classical music, and learned the intricacies of accompaniment from Pandit Ravi Shankar, with whom he played for over a decade.

Bickram played on four albums that were nominated for Grammy's, including George Harrison's "Brainwashed." He performed on "Full Circle" with Pandit Ravi Shankar, for which the latter won the Grammy. Bickram later went on to form his band Rhythmscape, and his subsequent solo albums were met with great success, which has cemented his position as a pioneer of a new fusion sound.

Bickram has over 100 albums to his credit, and a myriad of awards. In 2012, Bickram was awarded the prestigious Banga Bhushan award—the second highest civilian state award in West Bengal. In 2015 he received the Sangeet Maha Samman, the highest musical recognition in West Bengal. In 2012, Bickram recreated the India National song, "Vande Mataram," with 22 of India's greatest musicians. Bickram has four Global Indian Music Awards (GIMA) to his credit.


---

One of the best-known Sarod players of the present generation, Pandit Tejendra Narayan Majumdar had an early initiation into music by his grandfather, the late Bibhuti Ranjan Majumdar. His considerable talent was later nurtured by his father, the late Ranjan Majumdar. Tejendra received vocal and rhythm training under Late Pandit Amaresh Chowdhury and Sri Anil Palit, which further ensured a holistic musical development in him. Tejendra was then accepted by the late Ustad Bahadur Khan as his disciple.

Eighteen years of intensive study under Ustad Bahadur Khan matured his talent into a true genius. Recognition of his abilities came in 1981, when he stood first in the All India Radio Music Competition and was awarded the President's Gold Medal and the Pandit D.V. Paluskar award. After the untimely demise of his guru, he studied under the late Sri Ajay Sinha Roy, and then under one of the Legends of Indian Music: the late Swar-Samrat Ustad Ali Akbar Khan, until his demise. One of the best equipped musicians to carry on the great Senia Maihar mantle, Tejendra combines the intellectual density and technical virtuosity of his gharana, with an extraordinary tone, touch and an ambient melody which transcends any qualification. Above all, he has, in abundant measure, that indescribable ability to take the listeners along with him—the rare quality that is the hallmark of a genius. He is also a Top Grade artist of A.I.R and Doordarshan.


---
Pandit Yogesh Samsi is recognized as a leading tabla artiste in the world today, exhibiting consummate artistry both as a soloist and accompanist. The son of the renowned vocalist, the late Pandit Dinkar Kaikini, Yogesh was initiated on tabla by his father at the tender age of four, and later received guidance under Pandit H. Taranath Rao. However, it was under the gifted tutelage of the legendary Ustad Allah Rakha that Yogesh received intense training for 23 years, maturing into one of the most sought-after table artists in India today. His style is defined by an unmatched combination of power, sensitivity, knowledge of tradition, tonal clarity, and aesthetics.

Yogesh has played with many of the top-ranking classical instrumentalists, vocalists and dancers of India. He has also had the privilege of accompanying Ustad Allah Rakha and his son, the great maestro Ustad Zakir Hussain, in their solo performances, and has performed duets with Ustad Zakir Hussain. Apart from accompaniment, Yogesh has performed numerous memorable solo performances in India and abroad. He has been featured in many of the world's most prestigious venues, such as: Carnegie Hall in New York; the Kennedy Center in Washington DC; Theatre de la Ville in Paris; the Opera House in Sydney; the Barbican Centre in London; the Bolshoi Theatre in Moskow; and the Esplanade Theatre in Singapore, to name a few. 


---

About Maestro Ali Akbar Khan



Ali Akbar Khan (known more familiarly as Khansahib) was regarded as a "musician's musician." He was the master of the sarod (a 25-stringed, fretless instrument), in the Maihar gharana (ancestral tradition), and was known for his incredible breadth of artistry and knowledge. He was born in the village of Shibpur, in present-day Bangladesh on April 14th, 1922, and was raised by his father, Acharya Baba Allauddin Khan, and his mother, Madina Begum.
Khansahib began his studies with his father at the tender age of 3, learning vocal music. The classical music of North India is among the oldest continual musical traditions in the world, dating back thousands of years, and his father is acknowledged as one of the greatest figures in North Indian music of all time. Their family traces its gharana from Mian Tansen—a 16th century musical genius and court musician for Emperor Akbar—to Mohammed Wazir Khan, who was court musician of Rampur State and Baba Allauddin Khan's guru. In olden times, this music was considered close to magic; there are many accounts of it healing the ailing, as well as starting fires and bringing rain. The music could be used as medicine, and for this reason it must be studied seriously and with intense dedication. 

Khansahib would go on in life to be awarded the Padma Bhushan, the third-highest civilian award in India, followed by the Padma Vibhushan, the second-highest. In 1971 he performed at Madison Square Garden for the Concert for Bangladesh, along with Ravi Shankar, Alla Rakha, and Kamala Chakravarty; other musicians at the concert included George Harrison, Bob Dylan, Eric Clapton and Ringo Starr. Khansahib received the illustrious MacArthur Fellowship in 1991—the first Indian musician to be awarded the "genius grant." In 1997, Khansahib received the National Endowment for the Arts' prestigious National Heritage Fellowship; this is the United States' highest honor in the traditional arts. He also received five Grammy nominations over the course of his life.
For more information about Khansahib's incredible life and works, please visit aacm.org


---

About the AACM

The Ali Akbar College of Music was founded in 1967 by the legendary sarod Maestro Ali Akbar Khan, in Berkeley, California. The following year, it was relocated to Marin County–eventually landing in San Rafael, where it has remained.

During Ali Akbar Khan's career, he often dreamed of being able to open a school of music; an institution where musicians and music lovers alike could exist together and be surrounded constantly by their shared interests. After opening his first school in Calcutta in 1956, Khansahib was drawn to California and the incredible interest he found when visiting the Bay Area. It was his father, the esteemed Acharya Baba Allauddin Khan, who instilled in Khansahib the importance of spreading and teaching this music to any and all who wish to learn. His influence was the basis for Khansahib's vision and remains as the mission statement of the AACM.
More at aacm.org