Shivaratri 14-Day Process
Saturday, February 4, 2023 - Sunday, February 19, 2023
14-Day Guided Meditation & Energy Process
Join us for a very special MahaShivaratri program that will include special teachings, nightly guided meditations, readings from the Shiva puranas, fire ceremonies, and special processes to connect to Shiva.
The yogis call the pristine inner silence where you and God are one Paramashiva, or Supreme Shiva. By awakening and developing the consciousness of that pure stillness within, you will know your Self. Knowing what you truly are is called enlightenment.
There is no reaching the highest levels of spiritual realization without Shiva's energy.
Maha Shivaratri is one of the most auspicious times of the year and a night of infinite possibilities, a time not to be missed by any serious spiritual seeker. Through the use of powerful yogic processes, we can receive profound blessings— this one night equal to years or decades or of meditation energy to our soul. 
Ramakrishna will guide you through processes he learned directly during his time in India living with the great Yogi and Siddha, Sri Kaleshwar. Ramakrishna has experienced many miracles in his life possible only through the Shiva energy and his great hope is to share with you what he has learned so you can experience this as well.
What's Included in this Program:
2 live satsangs with Ramakrishna

14 days of live, guided meditations led by Ramakrishna every evening

14 readings of the Shiva Purana by Bhramari

Powerful Full Moon Yagyam (fire ceremony) to begin our energy process
1 Maha Abishek (ritual washing) of Shirdi Baba (an incarnation of Shiva), Ganesh (the son of Shiva), and Shiva (in the form of a very sacred Shiva Lingam)

Online access to all course materials to watch, read, and reference as often as you like.

Special mantra to connect with Shiva
Special Shakti processes on Shivaratri night to help you take full advantage of this Holy time
Scholarship Information:  We would like to make this program available for all who would like to join so we are offering this as a donation-based event. If you are unable to afford the suggested donation amounts, please email blessings@paramashiva.org for scholarship information.
According to the law of karma, karma siddhānta, an exchange is very important. Giving is necessary for receiving. 
Sri Kaleshwar's Message on Shiva:
"Only on that day Shiva wakes up from his meditation and wants to merge with those who have really opened their hearts. He wants to merge with his students to lift them and connect to them more powerfully.
That one day if we do the channels of Shiva, there's a golden statement, 'For many lifetimes whatever negative karmas we've done, they'll get burned, get washed out, will get completely purified.' If you're smart with the Shiva energy during Shivaratri time, you can cut off that string, the negativity from many, many lifetimes. 
Shiva gave only one day when he wakes up from his meditation. Once he wakes up then we tell him our prayers, our wishes. Of course, we came from him. He knows all our problems. But they're not our problems. We think we have problems. But the problems are not really problems. They all came from him. Give them back to him."         
             ~Sri Kaleshwar
---
Ramakrishna Ananda

Ramakrishna teaching during Shivaratri, Penukonda, India.
Ramakrishna spent 15 years living in India and studying at the feet of an enlightened master, Swami Kaleshwar. Sri Kaleshwar's life mission was to release the top ancient knowledge that has been alive for thousands of years but kept hidden, being passed to only one or perhaps two students through a continuous lineage.  
Sri Kaleshwar said we are now entering the darkest part of the darkest age of humanity and that this needed knowledge belongs to humanity as a whole, not a select few.
Through sharing what he has learned Ramakrishna's ambition is the same as Sri Kaleshwar's: To spread this knowledge to help the world and to create spiritual masters, not students.
He offers online weekly satsangs, apprenticeship programs, spiritual counseling, power journeys to India, and in-person retreats at the center in Blanco, TX.
To learn more about the Paramashiva Healing & Enlightenment channels, please visit www.paramashiva.org
---
Sri Kaleshwar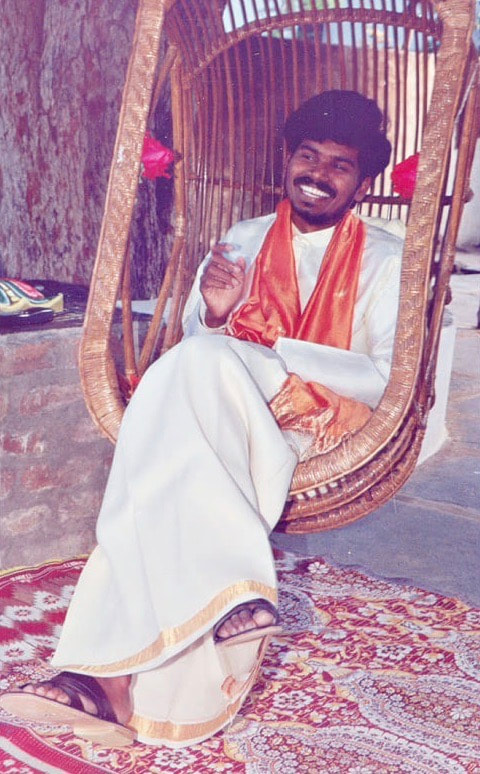 Sri Kaleshwar Swami is a modern spiritual master in the lineage of Shirdi Sai Baba, Jesus Christ, Mother Mary, Babaji, Ramakrishna Paramahamsa and Ramana Maharshi. In 1998, Sri Kaleshwar received permission from the Divine Court of spiritual masters, including Shirdi Baba, Jesus, and Ramakrishna Paramahamsa, to teach Western students this knowledge.
Sri Kaleshwar said now is the time to make the ancient knowledge readily available to help heal the world's suffering and transform the way spirituality is practiced on the planet
Enlightened as a boy, his mission was to reveal the ancient knowledge of the palm leaf manuscripts that up until then had been kept secret. The palm leaf manuscripts contained the mysteries of Creation, such as the mechanics of miracles and healing, how to create divine children, and numerous ways to achieve direct experiences with the divine. They contain sacred formulas that when correctly practiced awaken the incredible capability hidden within each soul.
"Every soul has the potential to reach the level of a Shirdi Baba or Jesus and contribute amazing things to the world."   – Sri Kaleshwar