The Real Life & Teachings of Jesus
Sunday, December 18, 2022
9:00am - 10:30am
FREE LIVESTREAM EVENT
Sunday, December 18
9:00 am Pacific • 12:00 pm Eastern


A Message from Ramakrishna
The fact that Jesus spent the majority of his life in India has long been common knowledge among advanced yogis and sages. He left behind many proofs, including carvings on rocks and temple walls, as well as ancient palm leaf manuscripts written in his own hand. 
In the West, what we learn about Jesus leaves many of us disenchanted and confused. I grew up with an understanding that God and Jesus are perfect, and I am not, and are so distant from me as to be impossible to attain. 
I was very fortunate to spend 15 years living in India studying at the feet of a master yogi and siddha with a very close relationship with Jesus. Every year during Christmas, Swami would put us into powerful Shakti energy processes with Jesus. Miracle energy would flow and some of the things that happened were beyond imagining.
This Sunday I would like to share with you some of what I learned about the true life and teachings of Jesus and I think that in the hearing you will realize the truth of this knowledge, as recorded in palm leaves and shared by spiritual masters. Many pieces will fall into place and that distance between you and him will dissolve. What is true and possible for him is also true and possible for you, and this is one of the greatest gifts he gave.

His life is his message and over the next couple of weeks, I will continue to share what I have learned and experienced.

I look forward to sharing this beautiful knowledge with you and hope you will join.
with love,
Ramakrishna
Learn More: https://www.paramashiva.org/the-yoga-of-jesus
Sri Kaleshwar's Message on Jesus
"My dear divine souls, Jesus Christ was quite an amazing and powerful person. I knew him personally. He was an avadhut, a fierce gentle soul with a beautiful look, a face like a flower blooming. His look was so full of pure love. He was a flower blooming in the darkness.
I walked with him and personally made a promise to him. At the time we were in India and the information was lost. On the day, I put my hand on his hand, he said, 'Are you really going to bring this knowledge back to the globe?'
'Yes, I will do something.' He made me promise five times.
That's my big mission to bring back the channels Jesus practiced and make Mother Divine available for students to have Her darshan and receive abilities from Her.
What I'm telling now was a big famous story 2,000 years back. This is the time I have to give it to the world. Two thousand years later the information is finally coming out."         
– Sri Kaleshwar
---
Ramakrishna Ananda

Ramakrishna teaching at the Jesus Temple, Penukonda, India.
Ramakrishna spent 15 years living in India and studying at the feet of an enlightened master, Swami Kaleshwar. Sri Kaleshwar's life mission was to release the top ancient knowledge that has been alive for thousands of years but kept hidden, being passed to only one or perhaps two students through a continuous lineage.  
Sri Kaleshwar said we are now entering the darkest part of the darkest age of humanity and that this needed knowledge belongs to humanity as a whole, not a select few.
Through sharing what he has learned Ramakrishna's ambition is the same as Sri Kaleshwar's: To spread this knowledge to help the world and to create spiritual masters, not students.
He offers online weekly satsangs, apprenticeship programs, spiritual counseling, power journeys to India, and in-person retreats at the center in Blanco, TX.
To learn more about the Paramashiva Healing & Enlightenment channels, please visit www.paramashiva.org
---
Sri Kaleshwar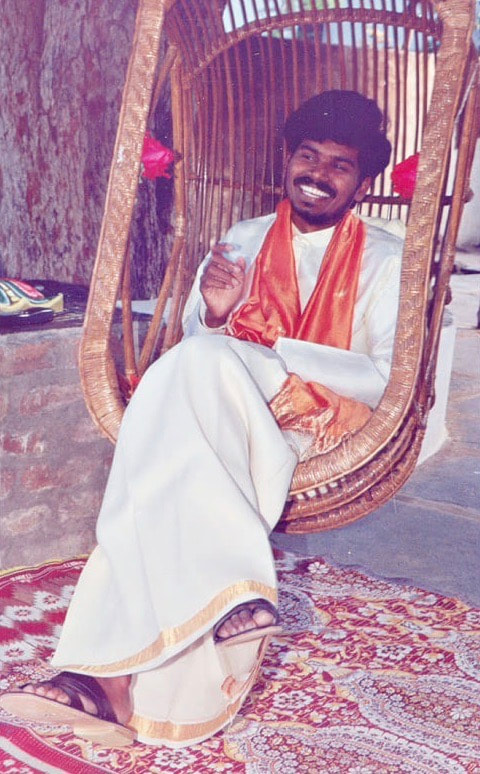 Sri Kaleshwar Swami is a modern spiritual master in the lineage of Shirdi Sai Baba, Jesus Christ, Mother Mary, Babaji, Ramakrishna Paramahamsa and Ramana Maharshi. In 1998, Sri Kaleshwar received permission from the Divine Court of spiritual masters, including Shirdi Baba, Jesus, and Ramakrishna Paramahamsa, to teach Western students this knowledge.
Sri Kaleshwar said now is the time to make the ancient knowledge readily available to help heal the world's suffering and transform the way spirituality is practiced on the planet
Enlightened as a boy, his mission was to reveal the ancient knowledge of the palm leaf manuscripts that up until then had been kept secret. The palm leaf manuscripts contained the mysteries of Creation, such as the mechanics of miracles and healing, how to create divine children, and numerous ways to achieve direct experiences with the divine. They contain sacred formulas that when correctly practiced awaken the incredible capability hidden within each soul.
"Every soul has the potential to reach the level of a Shirdi Baba or Jesus and contribute amazing things to the world."   – Sri Kaleshwar