The Yoga Master Luxury Retreat
Sunday, February 26, 2023 - Saturday, March 4, 2023
Jade Nosara, Nosara, Guanacaste Province
For yoga students and teachers who are devoted to evolving their practice and connecting to the Master Teacher that resides within.
February 26 – March 4, 2023 | Nosara, Costa Rica
Refresh Your Practice & Teaching
Each of us has a unique and personal journey toward spiritual growth and mastery.
The Yoga "Master" Luxury Retreat is an opportunity for students and teachers to learn a way of practicing and teaching yoga that will keep you on the edge of your growth all the time.
Sometimes we can get stuck in our practice or our teaching, where we lose the freshness, excitement, and aliveness that brought us to practice and teaching in the first place.
Retreat Overview
Come join us on this magical journey toward yoga mastery and transformation—as a student, as a teacher, and in your life. On this unique retreat, we will learn true secrets of yoga mastery.
We will experiment with the alchemy of the senses, dive deep into the mystery of archetypal knowledge, explore the secrets of music and sacred sound, and experience the transformative power of discernment in the lush tropical forests and on the beaches of Nosara, Costa Rica.
We will learn how to see our students and ourselves more deeply, use the sense of touch with greater sensitivity, listen and communicate with greater intimacy, move more authentically and with deeper awareness, and relax into the meditation that is always happening, while having plenty of time to explore, relax, restore, and honor ourselves in an idyllic setting.
There will be excellent healthful food, healing ritual, spa sessions, nature excursions, a healing foods cooking class, and more!
We look forward to having you on this adventure!
What You'll Receive In The Retreat
Pre-Retreat Online Welcome/ Foundations of Yoga Mastery/Body Reading: The Art of Seeing Each Other More Deeply (2 hours Live and also Recorded)
7 days/6 nights accommodation at Jade Nosara retreat center (spacious bedrooms, bungalows, private bathrooms, linens)
Daily light breakfast, brunch, and dinner
Use of estate/retreat center premises, beautiful pool, gardens, nearby hiking
Outstanding location just minutes walk from Playa Guiones beach
Welcome reception
Welcome dinner under the stars
Daily meditation and "yoga mastery" sessions
Movement awareness classes
Healing foods cooking class
Healing ritual/ceremony
Ocean/beach time
Optional add-ons of horseback riding on the beach, zip-lining, and more
Spa treatment
Day trips and entrance fees
Transportation to/from planned excursions/day trips
IMPORTANT: This retreat is not focused on yoga asana practice classes. Daily asana practice classes are not included in the training program. There are daily Movement/Movement Awareness classes as part of the program. (Regular asana practice classes are available nearby for additional fee.)
Your Guide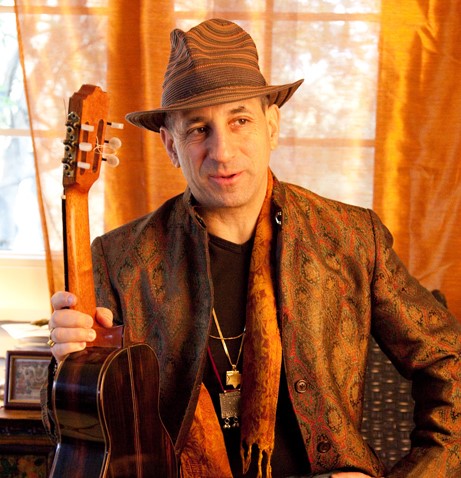 Jeff "KD" Meyers, M.D. L.Ac., is a physician, acupuncturist, yoga teacher, healer, and artist with an extensive background in holistic approaches to healing, the arts, and spirituality.
His path as a healer and artist began in the 1980s as a student of holistic medicine and spirituality in Colorado and New Mexico. He received his Doctor of Medicine degree from the University of Colorado School of Medicine and practiced Western and Integrative medicine for over 20 years.
KD was co-director of Dharma Mittra's "Life of a Yogi" Teacher Training. He received a Certificate in Psychedelic Therapies and Research from the California Institute of Integral Studies (CIIS) and is a mentor and part of the program staff. He also completed Ketamine-Assisted Psychotherapy Training through The Ketamine Training Center.
In 2010, he was graced with the blessings of the Divine Mother who gifted him with the spiritually healing power of her song. KD receives and offers transmissions in multiple spiritual lineages, including the lineage of the Divine Mother.
Still have questions, please email info@kdmeyers.com and we can book a call to discuss.