World Folk Jam - San Rafael - Summer Edition
Saturday, July 29, 2023 - Sunday, July 30, 2023
Secret Location, San Rafael, CA
LOCATION INFO IS ON YOUR TICKET EMAIL.
SUBJECT OF EMAIL IS: "Your Receipt For World Folk Jam – San Rafael – Summer Edition"
OR "World Folk Jam 7/29 Location, Parking & Shuttle Info"
TEA TRIBE PRESENTS:
WORLD FOLK JAM
Our events celebrate diversity and honor ancient traditions, featuring world-renowned folk music and performance arts. These events seek to nurture and support the Bay Area's world folk communities and to facilitate networking, collaboration, friendship, and cross-cultural understanding. Sign up for our events list here.
SATURDAY, JULY 29TH, 4PM TO 3AM
SAN RAFAEL ESTATE

MUSIC, DANCE & SPA LOUNGING

Drive from: Berkeley: 25mins, Oakland: 30mins, SF: 35mins
THE ESTATE
Shoe-Free Indoors. Accessible, with Elevator.
THE LIBRARY (Upper Level)
4:30 PM | Corazon Sur Duo (Brazilian, Mexican, Jazz)
6:30 PM | Raman & Faisal (Syrian/Kurdish/Arabic)
8:00 PM | Nakarat (Turkish, Greek, Italian)
10:00 PM | Linda Stevens, Stevie Cook & Diane Garner (Oshan's Parents)
12:00 AM | Miguelito Martinez Ensemble (Afro-Carribean)
1:30 AM | Vaidehi Amair (Mantra Bass)
Ceremonial Tea Lounge
Massage
THE PARLOR (Middle Level)
8:00 PM | Cumbia Paradiso (Peruvian Psychedelic Cumbia)
10:00 PM | Lars and in Charge (Turkey, Greece and Beyond)
12:00 AM | The Deep Basement Shakers (American Roots/Barrelhouse)
1:30 AM | oshan anand (Folktronica)
Healthy Kitchen Fare ($$)
THE SPA GARDEN (Middle Level – Outside)
Ceremonial Tea Lounge
Sauna and Cold Plunge
Bring towels. Clothing optional. Shower before using.
4:30 PM | Xiao Zhang (Chinese Pipa)
6:00 PM | Isaac Cantor (American Banjo)
11:00 PM | Jake Ross & Captain Sparkles (Fire Arts)
THE DEN (Lower Level)
Open Acoustic Jams (World Folk)
THE POOLS (Lowest Level – Outside)
Full-size Swimming Pool and Hot Tub
Bring towels. Clothing optional. Shower before using.
6:00 PM | Sienna Smith (Yoga)
7:45 PM | Sunset Meditation Class (Linda Stevens)
7:57 PM | The Sun (Setting over the Bay)
PARKING & SHUTTLES

Do Not Park Close to the Venue or you will be banned from our events.
A ticket AND proof that you didn't park nearby (Uber/Lyft or free shuttle receipt) will be required for entry to the event.
Shuttles: From 3:45pm to 4am, a free shuttle service will run every 5-10 minutes to and from a location 4 minutes from the venue.
The shuttle location, venue location and Uber/Lyft instructions will be included with your ticket.
PARTICIPATE
PERFORMERS

Miguelito Martinez Ensemble (Afro-Carribean)
Miguelito grew up by the mountains of Chiapas; and in his music you will sense an ocean breeze, sweet fruits, and humid earth. Miguelito's principal objective is to diffuse the rich Afro-Caribbean music, continuing and deepening the process of cultural syncretism by adapting Mexican music to Caribbean and Mexican rhythms and structures.

Vaidehi Amair (Mantra Bass)
Vaidehi Amair is a creative entrepreneur that loves to share spiritual knowledge and mantra through music and dance. Born and raised in the Bhakti Yoga tradition, she has a love for mantra and hip hop and now produces her own mantra bass hip hop music with ancient Sanskrit chants. Her vision is to bridge the culture of Bhakti Yoga into the world of music and festival culture. She has performed on various stages such as Northern Nights Music Festival, LIB, Love Long Beach Festival, Enchanted Forest, Envision Costa Rica, One Love Fest, BhaktiLoveReunion, Osho Tantra Gathering and more.

Lars and In Charge (Turkey, Greece, and Beyond)
Lars and In Charge performs high-energy original and traditional music of Turkey, Greece and beyond. Lars Tergis leads the charge on violin with driving, gritty interpretations of traditional party tunes as well as original compositions based in regional scales and rhythms. Chris Reid adds a touch of 'West' with percussive chordal accompaniment on steel-string guitar. Joe Rosato Jr. holds it down on upright bass while Faisal Zedan keeps the beat popping on derbekki, riqq and davul. Joined on stage by some of the Bay Area's top dancers and guest musicians, Lars and In Charge brings a big sound and an even bigger party.

Tanvi Mongia (Indian Classical Dance)
Tanvi Mongia is an Indian classically trained dancer in the ancient Hindu art form of Bharatnatyam. This style of dance originates 2,000 years ago and with the communion of hand mudras, eye movements, and rhythmic beats tells intricate stories of Hindu mythology. Tanvi adds her own Bollywood twist to this style of dance to bring you a soulful and enthralling performance.

Raman & Faisal (Syrian/Kurdish/Arabic)
A mixture of Syrian, Kurdish, and Arabic music. This band includes Raman Osman, Kurdish composer and master tembûr/tambour (saz) musician from Al-Hasaka, Syria, and Faisal Zedan, Syrian virtuoso percussionist.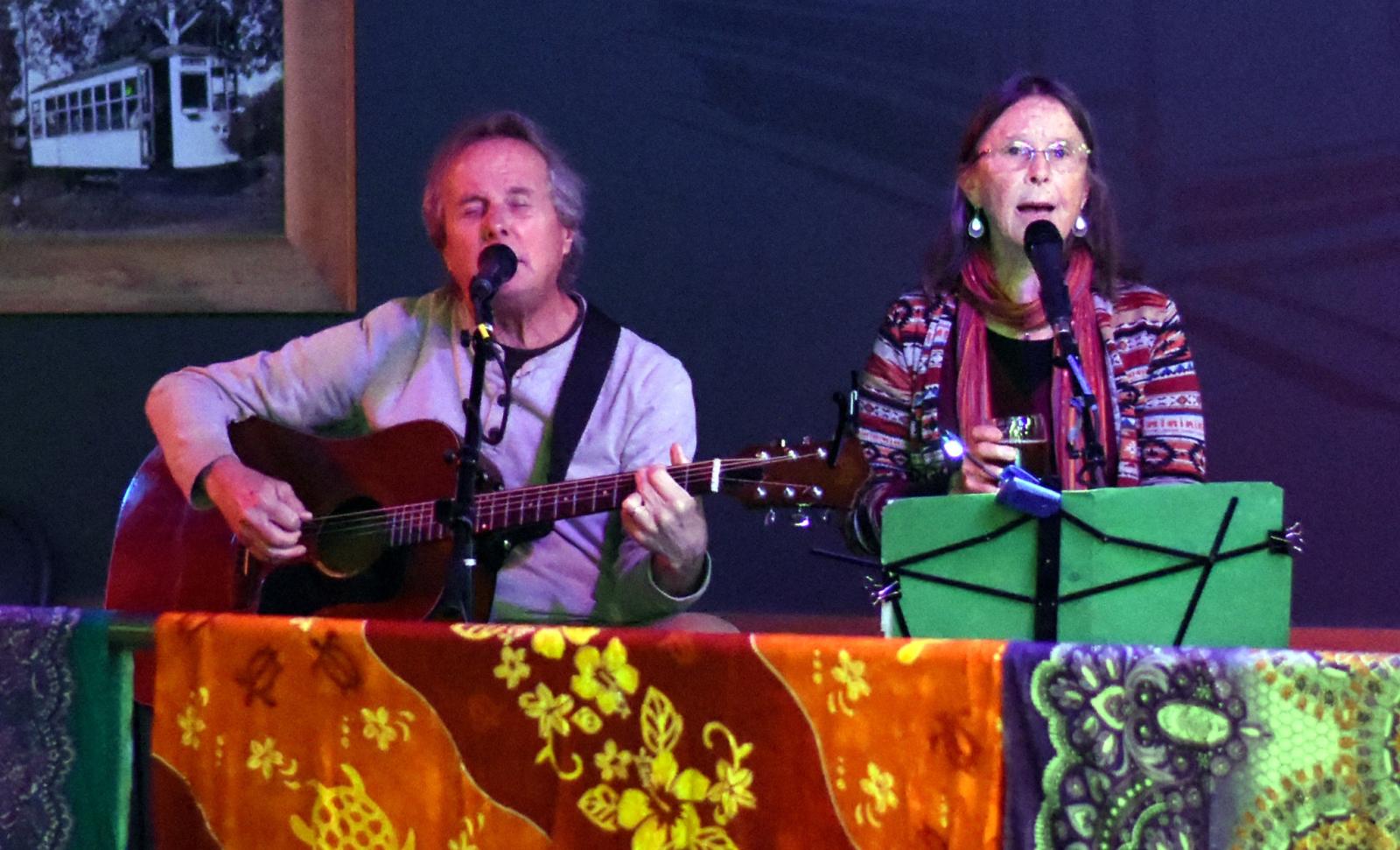 Stevie Cook and Diane Garner (Oshan's Dad & Step-Mom)
World Folk Jam founder Oshan's dad Stevie Cook has been a lifelong singer-songwriter and guitarist. Stevie has always weaved world folk sounds in his music, including Reggae, Soul, Gospel, Celtic, Latin and Blues. Stevie will be joined by Oshan's step-mother Diane Garner on the mandolin and voice.



Linda Detsal Joy (Oshan's Mother)
Linda is the mother of World Folk Jam founder Oshan. As a child, Linda introduced Oshan to the world of traditional music and dance. Linda is a lifelong musician and poet. When growing up in Asheville, NC, they were family friends with four-time Grammy winner David Holt, a folk musician and storyteller. They would attend bluegrass events like Shindig on the Green. When they moved to England, Linda began to study Bharatnatyam Indian Dance and Oshan would sometimes accompany Linda to dance classes in London. Linda also brought Oshan to Eastern European circle dancing events, and many other world folk events. Linda will share songs on the ukelele and flute, and she will also teach a meditation class.

Cumbia Paradiso (Peruvian Psychedelic Cumbia)
Cumbia Paradiso combines latin rhythms and vintage rock sounds to form a danceable brew.
Nakarat
(Turkish, Greek, Ladino, Italian, Griko)
Nakarat is a San Francisco-based duo featuring
Duygu Gun
on guitars and vocals and Jonathan Kipp on accordion. Our music is a vibrant, emotional melange of folk songs in Turkish, Ladino, Greek, Griko, and Italian. A Mediterranean breeze with spicy nomadic tunes from the region.

The Deep Basement Shakers (American Roots / Barrelhouse)
The Deep Basement Shakers play American roots music with a focus on barrelhouse, an oft-overlooked Deep South folk tradition developed in the 1910s, 20s and 30s combining influences of rags and cakewalks with string band, jug band, hokum and a variety of regional pre-war era blues styles. The DBS have a unique sound featuring old time piano, washboard and an arsenal of DIY found object percussion, and aim to channel the original spirit of the tunes – to cut loose and get down.



Xiao Zhang (Chinese Pipa)
Immerse yourself in the captivating Pipa artistry of Xiao Zhang as she shares the profound beauty of this ancient instrument. Prepare to be captivated by the unique sounds that emanate from the Pipa, as Xiao's heartfelt performance blends tradition and innovation. Let the tranquil melodies transport you to a place of serenity.

Isaac Cantor (American Bluegrass)
Drawing on the ancient tones of many cultures and traditions, Isaac Cantor will take you on a magic carpet ride of sonic delight. From bluegrass and oldtime to gypsy vibes and new age soundscapes the music truly is a feast for your ears, imagination and heart. You can find Isaac playing regionally and nationally with the Dusty Green Bones Band, Grateful Bluegrass Boys and his electronic music project Mycelial.

Sienna Smith (Yoga)
Sienna is an expert-level yoga therapist and teacher for 20 years. She is also a physical therapy aide working in a clinical setting in Marin. She has guided thousands of people in yoga classes, yoga teacher trainings, yoga therapy, physical therapy modalities and breathing techniques. Sienna founded Yoga Mountain Studio in Marin, CA for 13 years. In 2022, she opened a yoga therapy clinic in San Anselmo called Yoga & Wellness. She is based out of the San Francisco Bay Area and travels worldwide to teach and connect.