World Folk Jam - Summer Solstice Festival
Saturday, June 24, 2023 - Sunday, June 25, 2023
Congregation Sherith Israel, San Francisco, CA
TEA TRIBE PRESENTS:
WORLD FOLK JAM
SUMMER SOLSTICE FESTIVAL
SATURDAY, JUNE 24TH
ALL DAY: 2PM TO 2AM
4 STAGES & OVER 30 ACTS
IN SAN FRANCISCO'S
MOST BEAUTIFUL BUILDING
Congregation Sherith Israel
2266 California St, San Francisco, CA 94115

The Summer Solstice is the longest day of the year. It has been celebrated in many ways globally since ancient times. At this gathering we honor diverse traditions of ritual, reverence, reverie and revelry.
Review from past attendee of World Folk Jam: "This was such an incredible event. From the moment I walked in my nervous system settled to baseline. The music and art displayed was nothing short of masterful, bringing me to tears a couple times. So many people smiling, dancing, singing, playing and talking together. Super grateful to you and the team of folks that made this event possible. May there be many more to come and may they all be an inspiration to those who attend. Thank you so much." – Nikko Scoulios
THE SANCTUARY
The Human Experience (Folktronica)
Mikey Pauker (Jewish Devotional)
Fanna-Fi-Allah (Sufi Qawwali)
Gamelan Gadung Kasturi (Balinese)
In Lak'ech Danza Azteca
with Ernesto Olmos (Aztec)
Mazatzin (Indigenous Mexican)
Chief Pajé Penó Shonoyá & Friends
(Noké Koî Tribe, Amazon)
Mizuho Sato (Flamenco)
Oshan Anand (Mystical Sun Poetry)
Mah Ze Tar (Persian/Indian)
Natalie Nayun (Tajik Dance)
Tanvi Mongia (Indian Dance)
Hannah Romanowsky &
Dunyazade Dance Ensemble
(Persian & Moroccan Dance)
Tenley Wallace (Indian & Persian Dance)

ON THE STREET
Food Trucks: An assortment of delicious offerings from the food trucks parked in front of the venue.
Musical Instrument Library: No need to bring an instrument to the jam, you can just borrow one from the musical instrument library, a box truck full of musical instruments with a stage that will be parked in the driveway.

a space

NEWMAN HALL (Folktronica)
David Satori (Beats Antique/Dirtwire)
DJ Sep
Maya Light
DJ Dragonfly
Yemanjo
Arula
AguaMayyim

BART HALL
DJ Bambi (Folktronica)
Sarma Brass Band (Balkan)
Soji Sai (Nigerian Afrobeat & Highlife)
Cumbia Paradiso (Peruvian Psychedelic Cumbia)
La Zuli (N. African, Spanish, Balkan)
Imagine:Nation Trio (West African)

SMALL CHAPEL
Beneath a Tree (Medieval Folk)
Paul Chengpo Wang
(Chinese Guqin and Solstice)
Ariel Luckey (Jewish Storytelling)
Obo Martin (Irish Storytelling)
Falsa (Sufi Music)
Amre Leon Dana (American Folk)

KIDS ZONE
Octopretzel (Kid Folk)
Emily Butterfly (Kid Folk)
Yari Mander (Kid's Drumming Workshop)
Natalie Nayun (Kid's Folk Dance Class)

CLASSROOMS
Sean T Fox (Qi Gong)
Yosef Rosen (Jewish Fire Magic & the Kabbalah of the Summer Solstice)
PARTICIPATE
World Folk Jam events celebrate diversity and honor ancient traditions, featuring world-renowned folk music and performance arts. These events seek to nurture and support the Bay Area's world folk communities and to facilitate networking, collaboration, friendship, and cross-cultural understanding. Sign up for our events list here.
PERFORMER BIOS


The Human Experience (Folktronica)
"The Human Experience" is David Block's principal project as a live electronic composer, multi-instrumentalist, and producer. Listeners experience a delicious symphonic blend of prismatic soundscapes and sultry beats. David is constantly pushing the boundaries of live electronic music. Playing, composing, and conducting his own electronic symphony live on stage, his performances are brimming and layered with human emotion, world exploration, and sacred sounds. Whether performing by himself, or with a live band, "The Human Experience" always delivers an emotionally charged show. David is also a member of Gone Gone Beyond.

Fanna-Fi-Allah (Sufi Qawwali)
Fanna-fi-Allah's founding members have spent over 22 years learning this classical art from some of the greatest masters of qawwali in India and Pakistan. With the blessings of the masters, the ensemble carry the flame of traditional Sufi Qawwali around the world. Fanna-Fi-Allah seek to represent the music in its traditional, authentic form and over the last 22 years they have built a cultural bridge between East & West, embodying a universal message of tolerance that is crucial to our time. They have offered audiences at large international festivals and concerts throughout the world a unique glimpse into the rich and vibrant culture of Qawwali.

Gadung Kasturi Balinese Dance and Music
Established in 2007 as a non-profit organization by Kompiang Metri Davies (Artistic Director), Gadung Kasturi's mission is to help preserve, promote, and develop the traditional dance and music of Bali, Indonesia, through live performances, workshops, classes, lectures, and publications.

David Satori (Beats Antique / Dirtwire)
David Satori is a member of Beats Antique, and former member and founder of Dirtwire. David is also involved with a nonprofit project called One Mic Studios. This project builds micro recording studios in under-resourced places around the world to uplift youth by giving them a voice and helping to amplify their message through the art of recording and production.

Mikey Pauker (Jewish Devotional)
Mikey Pauker (pronounced pow-ker) is a Devotional Rock artist from Laguna Beach, California. Pauker has been described as one of "The 10 Stars Of The New Jewish Music via TIME Magazine. Growing up in Orange County, Mikey's early experiences at underground shows exposed him to the intense, primal energy of live music, as well as the strong community bonds that form in an authentic and close-knit scene. Inspired by teachers who blend yoga and mystical practices he went to study in Jerusalem, soaking up the hidden teachings of his ancestral lineage. These spiritual dimensions guided his artistic development as he explored ecstatic music festivals and mystical religious traditions. His music implores us all to look within, sit with our darkness, and transform it into light. Mikey's sound blends elements of folk, reggae, and hip-hop, incorporating English and Hebrew roots into his devotional songwriting.

Tenley Wallace (Odissi Indian Classical Dance & Arabic Fusion Belly Dance)
After decades of study with dance and yoga legends around the world, Tenley Wallace developed her unique and distinctive format, Temple Tribal Fusion®. This modern form of Temple Dance fuses Tribal Belly Dance (from her home city of San Francisco), Indian Classical Dance, Persian Classical and Folkloric, Nepali Dakini Dance, and other Sacred Dance forms, along with yogic practices and principles at the core. She teaches and performs internationally, in person and online. – website link


Sarma Brass Band (Balkan)
Sarma Brass Band is a 10-piece Balkan Brass Band that evokes the energetic grooves and soaring melodies of the Balkan Roma. The band draws upon founder/leader Tano Brock's upbringing in the Balkan music scene in Northern California, as well as his travels and studies throughout the Balkans. They play original material as well as a variety of traditional music from Macedonia, Serbia, Greece, and Albania. Featuring musicians from the US, Serbia, Turkey, and Palestine, Sarma Brass Band represents an international love of Balkan Brass. Their full and epic sound, consisting of groovy melodies and chest-thumping rhythms, will entice even the most shy listener to dance.

Hannah Romanovsky and the Dunyazade Dance Ensemble (Persian and Moroccan Dance)
Hannah Romanowsky is a performing artist who enchants audiences with her offerings of Middle Eastern and Silk Road dances. In collaboration with the Dunyazade Dance Ensemble, she presents a captivating Persian dance suite set to an evocative tapestry of global melodies. Then, she transports viewers to a realm of jubilation through a vibrant Moroccan dance suite, celebrating the radiant spirit of the summer season.


In Lak'ech Danza Azteca with Ernesto Olmos (Aztec)
The In Lak'ech Group was founded in 2013 based out of Oakland Ca. Ernesto Olmos has been active in the community arts in Northern California since 1998. He has developed a wide range of programs, curriculum, presentations, art exhibits and musical performance based in traditions of Native Mexico. He travels to support sacred ceremonies and cultural exchanges throughout the Americas. Ernesto combines ancient forms of art that have been passed down through oral and ceremonial traditions. He works to keep sacred arts thriving with the intention of remembering indigenous roots and living in with full honor as we walk in the path set out by our ancestors, using the healing sounds of Mesoamerican instruments and indigenous cultural traditions from Oaxaca, Mexico.

Mazatzin (Indigenous Mexican)
Kikapoo, Chichimekatl, a TONALPOUKI, Keeper of the signs of the days of the Sun Renowned Authority of the ancient original indigenous Culture and its precise measurements of time and space. He is Co-Founder of the House of the Aztek Heart, AZTEKAYOLOKALLI, a floating school to teach and practice the Science and art of time keeping. Advisor, CCSF Aztek Calendar Project, in San Francisco. Ca. Member of the Frente Mexicano Pro Derechos Humanos, and a UN Messenger of Peace. Mazatzin offers a Re-introduction to one's Cosmic Identity and Responsibility.



Chief Pajé Penó Shonoyá & Carine of the Noké Koî Tribe With Medicine Men Andres Espinoza Arellano & Camilo Jose 'Pacal' Anguita (Songs From The HeArts of the Amazon to the Andes)
From The Hearts of the Amazon Forest with Blessings from the 'Montanas de Andes' The Noké Koî & Tribe Carry their Medicine with Prayers to be Shared. Fifth Generation Shaman Pajé Penó Shonoyá, with his Wife Carine, share their Wisdom songs in their first visit to America from the Amazon. Andres Arellano, Pajé's former student, offers Gifts he has received in his Listening and Learning from the Shipibo-Conibo & Quechua Masters, Sanskrit Mantras from India, and Native American prayers from the Lakotas. Camilo, Pacal, shares his Grace and Mastery in a range of instruments, and practices of the healing arts, from flutes and guitar to handpan, drums, and his serenely smooth vocal vibrations. Their Songs are Medicine that can be Enjoyed, In Joy.

Soji Sai (Nigerian Afrobeat & Highlife)
Nigeria's legendary guitar master and singer Adesoji ""Soji"" Odukogbe was, among other things, the lead guitarist for Fela Kuti for five years. Odukogbe draws on an extensive background in Nigerian Afrobeat, highlife, and spiritual music, bringing a unique sensibility to his highlife guitar interpretations.

Sass N Harmony (American Folk)
The music of Sass N Harmony is imbued with mischief, minimalism & magic. With lyrics immersed in archetypes & folk-tales their vocals fly together at times angelic & feathery and other times cackling & edgy, full of tension & resolve, rhythm & playfulness. Featuring Heather Normandale (Vocals, Guitar, Banjo, Ukulele, Bass), Maisha Lani (Guitar, Bass) and Carolyn Herlehy (Vocals, Percussion).

Mah Ze Tar (Eastern Fusion)
Māh Ze Tār is a musical fusion project by vocalist and multi-instrumentalist Maz Karandish. This project was propelled by the vision of fusing traditional Eastern music with modern electronic composition as a form of cultural preservation.
Mizuho Sato
(Flamenco Dance)
Award-winning Flamenco Artist Mizuho Sato was born in Iwate, Japan and started classical ballet at the age of three. She later developed a love for flamenco, the art form from Andalucía, Spain. Focusing on flamenco's intricate and complex rhythms, she will play live percussion, showcase her "taconeo" (footwork) talents, and move with the fluidity of upper body expression using "braceo" (arm movements) and "floreo" (hand movements). Mizuho will be joined by
Jesse Torre
on Flamenco Guitar. Jesse Torre is an up and coming Flamenco guitarist, teacher and composer based in the San Francisco, Bay Area. Along with accompanying the top flamenco artists in the Bay Area, Jesse has made appearances with Grammy award winning Jazz violinist Mads Tolling and Emmy award winning choreographer and dancer Yaelisa of Caminos Flamencos. Jesse performs regularly with Venezuelan guitarist Carlos Caminos in Camino de Agua, a guitar duo that explores a fusion of jazz, flamenco and classical genres of music.
Falsa
(Sufi Music)
Classically trained in Voice since the age of four in the Sufi city of Multan, Pakistan, and featured on NPR and at Carnegie Hall/Lincoln Center, amongst other venues of note, with contemporary arrangement of 14th Century Sufi music and improvisations that defy cultural preconceptions and genre-specificity, Falsa invites meditation, conversation, and transcendence.
Octopretzel
(Kid Folk)
Octopretzel is a tangle of Bay Area musicians, educators and parents – friends that originally came together for back yard jams. The name
Octopretzel
was coined by one of their then 4yr old kids, and it stuck. Their music, comprised of original songs as well as traditional favorites, is whimsical and fun, with an underlying sensitivity for nature, animals, feelings, and connection . Best described as folk music, our songs cross generations and genres, weaving together many different musical styles, instruments and themes. Their intention is to create music that can be enjoyed by humans of all ages – children, and their parents too!
Emily Butterfly
(Kid Folk)
Emily Butterfly is an interstellar story teller who lives to delight children with her magically unique form of puppetry, storytelling and song. She has had the honor of creating shows and performing for thousands of preschool and elementary school students and feels blessed to have the abilities to create her own puppet friends, write and perform inspirational tales and direct troupes of puppeteers. Her voice has dazzled ears through her voice over career with Free Range Graphics and Cartoon Network and a three year stint as the producer and hostess of a children's radio program.
Yari Mander
(Kid's Drumming Workshop)
Yari Mander is a gifted music educator with a patient and supportive teaching style honed over more than 18 years of working with children and adults. He is also a professional drummer who has performed onstage with Joan Baez, Gamelan X, Reverend Michael Beckwith, Agape Choir, Octoprezel, and many other artists. Yari has multiple subject and music teaching credentials, is certified in Orff Shulwerk, and has taught music for almost 20 years at Bay Area private and public schools, and for one year in Brazil. He currently teaches music full time in Oakland Unified School District. Yari's mission is to facilitate joyful, active, and transformational musical experiences for diverse individuals and communities. He enjoys guiding groups to greater levels of connection, confidence, unity, and teamwork through making music together.
Natalie Nayun
(Kids Folk Dance Class & Tajik Dance)
Natalie is an international teacher and performer specializing in contemporary and folkloric styles from Central Asia and the Middle East. She founded international online dance school Pomegranate Garden Dance featuring teachers and students from all over the world. These styles include Persian, Afghan, Tajik, Uzbek dance and more! She has been dancing for over 20 years and teaching for over 15 years. Natalie will be teaching a kid's folk dance class in the Kid's zone, and offering a performance at the main stage.
Imagine:Nation Trio
(West African)
African music meets Oakland soul, folk and funk. Celebrating the love affair between Africa and the East Bay, CA, the IMAGINE:Nation Trio breaks new musical ground in forging a profound connection between the traditional music of the Motherland with its New World progeny: soul, folk and funk. Featuring innovative guitarist Nicco Tyson (Malikan, Studio Nanou), globe-trotting percussionist Robert "Bobby" Wallace (Bonnie Raitt, Margareth Menezes, Airto Moreira), and Malian Kora virtuoso Karamo Susso (Toumani Diabate, Ballake Sissoko), IMAGINE:Nation creates a lush tapestry of ancient Malian songs, acoustic soul songs exploring current life in Oakland, and daring improvisation.
DJ Sep
DJ Sep is a long-time San Francisco Bay Area DJ and producer, and the founder of Dub Mission, one of the longest-running reggae clubs in the world (1996-2019). She spins dub, reggae, dancehall, bass, Jungle/DnB, Afrobeats, and more. Sep has spun at festivals and clubs in Spain, the U.K., Canada, Mexico, many cities in the U.S., and most clubs in the greater Bay Area, and has presented and opened for a long list of reggae and electronic artists, including Lee Perry, The Scientist, Mad Professor, Sister Nancy, Sly & Robbie, Toots and The Maytals, Mykal Rose, Mungo's Hi Fi, Adrian Sherwood, Tippa Irie, The Wailers, Quantic, Akae Beka (aka Midnite), Hollie Cook, many others.
Yosef Rosen: Jewish Fire Magic & the Kabbalah of the Summer Solstice
Yosef Rosen is an educator, ritual designer, DJ, and recipient of a doctorate in Jewish Studies (UC Berkeley). His public offerings solicit a merging of what modern society often keeps separate: the contemporary and the ancient, the academic and the experiential, the religious and the secular, the spiritual and the somatic. An expert in the history of Kabbalah & Jewish magic, Yosef works to translate the mysteries of the past into usable mythologies and practices.
DJ Bambi
plays global ethno-electronic music, woven into soundscapes that welcome bodies into a dance experience where sacredness and silliness crash into each other, and the difference between play and prayer dissolves.
Beneath A Tree
(Baroque To Folk)
Beneath a Tree is a multi genre ensemble led by the core duo of Gail Hernández Rosa and Daniel Turkos. BAT's roots were planted in 2017 in Philadelphia and the surrounding rural pubs of Chester County, PA. These rowdy performances included standard folk, celtic, bluegrass and jazz repertoire melded with music from the baroque. Founded on the mutual love of historical performance, collaborations with like-minded intrepid musicians explore the interrelationships found between composed and traditional folk music from the baroque period and its continued relevance, creating a curious and exciting fusion that appeals to varied audiences. It is through a natural progression of musical curiosity BAT finds the kinship between genres and their roots in the baroque.
Ariel Luckey & Demb Players: Waystation Stories & Klezmer Songs

Born and raised in Oakland, California on Lisjan Ohlone land, Ariel Luckey is an interdisciplinary artist and activist who blurs the lines between performance, ritual and collective action. Together with Klezmer crew Demb Players, Ariel remixes stories from Jewish folk and mystic traditions, global politics and his travels through time and space.
Tanvi Mongia
(Indian Classical Dance)
Tanvi Mongia is an Indian classically trained dancer in the ancient Hindu art form of Bharatnatyam. This style of dance originates 2,000 years ago and with the communion of hand mudras, eye movements, and rhythmic beats tells intricate stories of Hindu mythology. Tanvi adds her own Bollywood twist to this style of dance to bring you a soulful and enthralling performance.

Amre Leon Dana (American Folk)
Nationally acclaimed folk musician, educator, and multi-instrumentalist Amre Leon Dana will create beautiful tapestries of sound with folk music from across North America, including bluegrass and the literal sounds of the Appalachian mountains.

La Zuli (North African/Spanish/Balkan)
La Zuli combines the virtuosic talents of violinist Briana Di Mara and guitarist Anis Sehiri. Together they weave fresh original melodies and danceable rhythms influenced by music everywhere from Spain to North Africa to the Balkans and beyond. With lush harmonies and improvisations combining with powerful bass and drums, the music is uplifting and inspiring. For this concert they will be joined by Josh Mellinger (drums) and Erinn Wilkerson (bass).

Maya Light
Maya Light loves to dive into the depths of connection and expression through the unique and captivating conversation that is awakened on the dance floor. She plays as a director of the human experience, offering countless pathways and possibilities of movement through the range of diverse music she shares. Drawn to deliciously wompy, heart-bass world beats, she encourages a rich exploration with a dynamically nourishing and inspiring journey of sound.

Cumbia Paradiso (Peruvian Psychedelic Cumbia)
Cumbia Paradiso combines latin rhythms and vintage rock sounds to form a danceable brew.

Paul Chengpo Wang (Chinese Guqin & Daoist Meditation)
Paul is the founder of Dao Center, Doctor of Acupuncture and Chinese Medicine, Board Licensed Acupuncturist, Sifu of WingChun, Chinese Astrologist, Guqin musician, and "Memetic Healer & Cultural Acupuncturist specializing in Clinical Cosmology & Mythopoetic Engineering."
Quqin Performance: The Guqin is a plucked seven-string musical instrument of ancient China, with a history dating back over 3,000 years, traditionally associated with scholars, poets, and artists; sometimes referred to as "the instrument of the sages." Here's a video of Paul playing Guqin.

Xiazhi (Chinese Summer Solstice)
Summer Solstice is a special annual alignment of Earth to Sun. In Chinese natural philosophy, the element of Fire flourishes both around and within us. Join a guided practice to align with the meaning, energy, and light of the season.

Arula (Folktronica)
Arula is a singer-songwriter, electronic music producer, DJ, & sound healing facilitator. She views music & movement as sacred expressions of a universal language; a language that unites and empowers people from all backgrounds. As a musician and movement artist she values expression as a path to awakening; a gateway to exploring the different parts of ourselves, the light & the shadow, exploring duality as a path to unity.

AguaMayyim (Folktronica)
AguaMayyim is a collaborative music project between Rose and Franky Garcia, born out of their deep love and mutual passion for the healing power of sound. Together they DJ, lead breath work and sound healing gatherings, and produce EDM & ecstatic dance events in Santa Cruz, CA.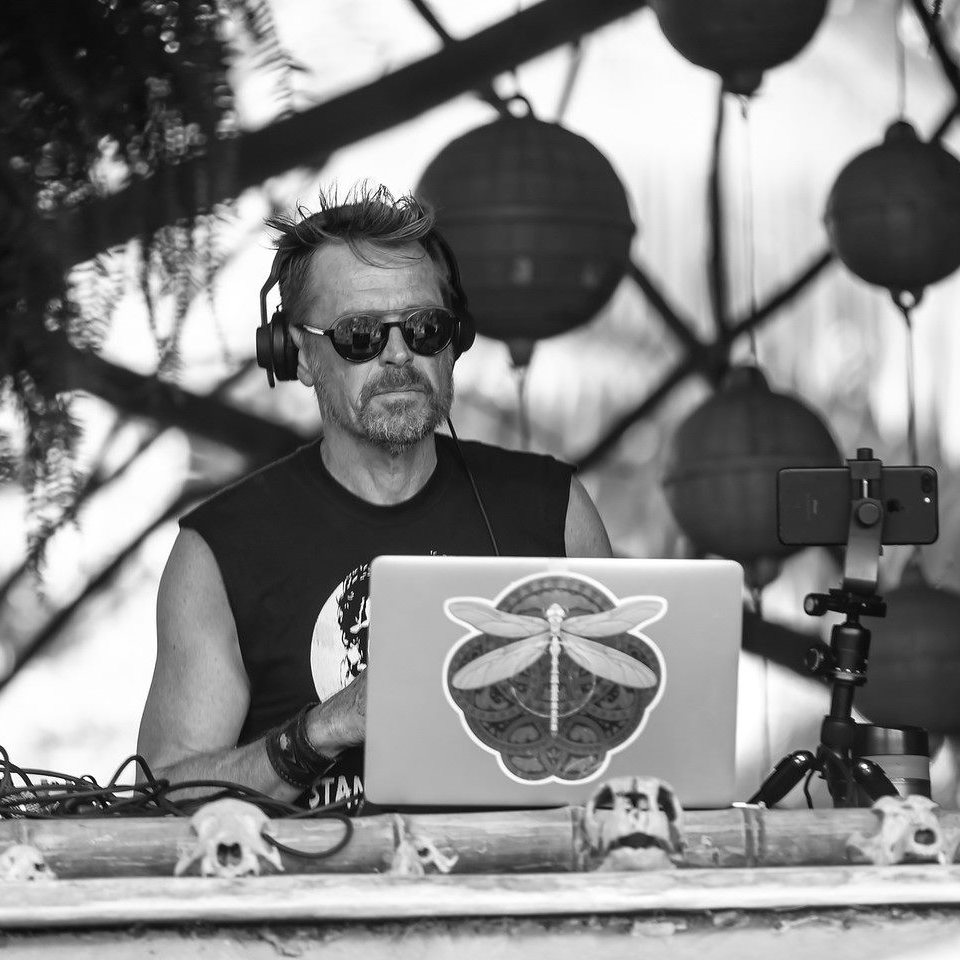 DJ Dragonfly (Global Bass)
Dancefloor-ready, open-format, underground-inspired and high-vibration, Dragonfly infuses the sonic depth of bass culture's boom with globally inspired rhythmic mysticism and sacred morphology.

Yemanjo (Folktronica)
From Brazil's pulsating street percussion to Colombia's shamanic healing chants, singer and multi-instrumentalist Ben Harris synthesizes the sonic universe of Latin America to create a unique 21st century fusion called "Medicine Beat". Born and raised in the rich cultural stew of California's Bay Area, Harris was exposed to music from around the world at an early age. He played classical trumpet in various bands and orchestras and also developed an interest in Afro-Latin hand percussion.

The Musical Instrument Library
The Musical Instrument Library truck and stage will be parked in front of the venue, which will allow attendees to jam on borrowed instruments.