FREE LIVESTREAM EVENT
Sunday, February 5th
9:00 am Pacific • 12:00 pm Eastern
Join us for a free satsang with Ramakrishna where he will introduce the process for connecting to the Divine Mother through the Sri Chakra Process.
The knowledge of the Sri Chakra is a core understanding of advanced spirituality. The Sri Chakra Yantra is the home of Mother Divine, it is the Mother's energy structure and Her creation mechanism. Practicing these divine channels awakens the same creation energy within us so that we can use them. 
Understanding the Sri Chakra prepares you for the supreme stages of connecting directly to Mother Divine, having darshan of Her in both energetic and physical forms. 
Enlightenment, healing, consciousness, blessing the fulfillment of material and spiritual desires, the Asta Siddhis, Brahma Consciousness, Soul Astrology, and Soul traveling are all aspects of this system.
"For anyone who wants to win Mother Divine, even a powerful healer, saint, or siddha, has to go through the Sri Chakra. You need to be able to access the Sri Chakra's energy, to carry that divine soul fragrance. Then your life becomes a beautiful gift to the world. You are then able to serve and fulfill the needs of those who come to you in a very powerful, effective way."                       
– Sri Kaleshwar
Learn More: https://www.paramashiva.org/sri-chakra-process
---
Ramakrishna Ananda

Ramakrishna teaching during Shivaratri, Penukonda, India.
Ramakrishna spent 15 years living in India and studying at the feet of an enlightened master, Swami Kaleshwar. Sri Kaleshwar's life mission was to release the top ancient knowledge that has been alive for thousands of years but kept hidden, being passed to only one or perhaps two students through a continuous lineage.  
Sri Kaleshwar said we are now entering the darkest part of the darkest age of humanity and that this needed knowledge belongs to humanity as a whole, not a select few.
Through sharing what he has learned Ramakrishna's ambition is the same as Sri Kaleshwar's: To spread this knowledge to help the world and to create spiritual masters, not students.
He offers online weekly satsangs, apprenticeship programs, spiritual counseling, power journeys to India, and in-person retreats at the center in Blanco, TX.
To learn more about the Paramashiva Healing & Enlightenment channels, please visit www.paramashiva.org
---
Sri Kaleshwar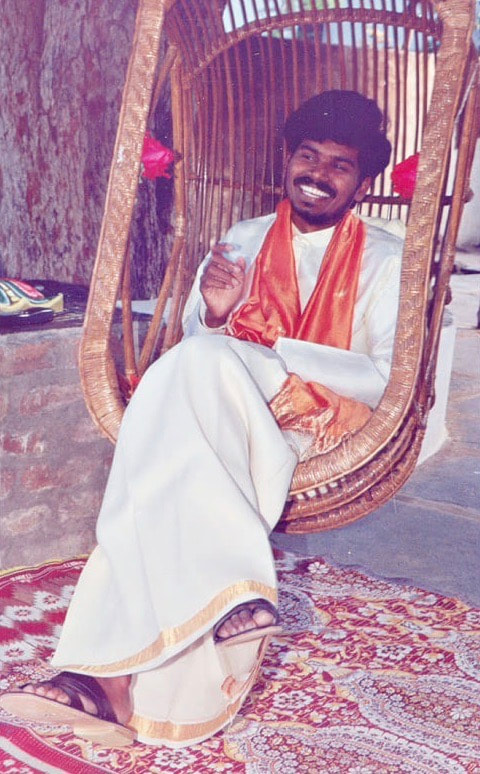 Sri Kaleshwar Swami is a modern spiritual master in the lineage of Shirdi Sai Baba, Jesus Christ, Mother Mary, Babaji, Ramakrishna Paramahamsa and Ramana Maharshi. In 1998, Sri Kaleshwar received permission from the Divine Court of spiritual masters, including Shirdi Baba, Jesus, and Ramakrishna Paramahamsa, to teach Western students this knowledge.
Sri Kaleshwar said now is the time to make the ancient knowledge readily available to help heal the world's suffering and transform the way spirituality is practiced on the planet
Enlightened as a boy, his mission was to reveal the ancient knowledge of the palm leaf manuscripts that up until then had been kept secret. The palm leaf manuscripts contained the mysteries of Creation, such as the mechanics of miracles and healing, how to create divine children, and numerous ways to achieve direct experiences with the divine. They contain sacred formulas that when correctly practiced awaken the incredible capability hidden within each soul.
"Every soul has the potential to reach the level of a Shirdi Baba or Jesus and contribute amazing things to the world."   – Sri Kaleshwar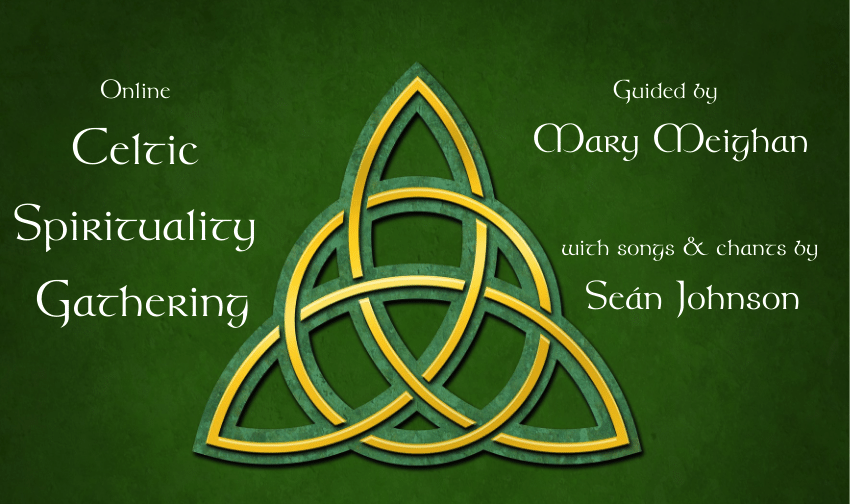 Online Celtic Spirituality Gathering: Celebrating May Day – Lá Bealtaine
Guided by Mary Meighan, founder of Celtic Journeys, live from Ireland – with songs & chants by Seán Johnson
(Time Zones: 11am-1:30pm Pacific/ noon-2:30pm Mountain/ 1-3:30pm Central/ 2-4:30pm Eastern)
Celtic Spirituality is the indigenous spirituality of Ireland. It is a gentle, nature based way of being that invites us to live from our heart.
The Fire Festival of Bealtaine signals early summer in the Celtic Calendar and is a time of fertility, vitality, abundance and renewal of outward activity. Step with us into the earthy mysticism of the Celtic Wisdom Tradition as we welcome the sun into our lives at this vital threshold, through honoring and connecting to the Celtic Spirit. This is shared through Celtic Ritual, Chants, Song, Story, Poetry, Blessings, and a Celtic Talk about what this time of year in the Celtic Calendar symbolises and how we may bring it into our homes and our lives.
You are so welcome to join us as we journey through the Celtic Year, gathering together on Celtic Festival days, as we continue to move with the seasons and partake of the energy and tune into a sense of Celtic consciousness, kindling or re-kindling the Celtic Soul within us.
Le beannachtaí – with blessings
Whether you are someone who knows very little and is curious about how the living spiritual tradition of Celtic Spirituality can nourish our lives; someone who has always been inspired by the Celtic world; or someone who has ancestry from the Celtic world who wishes to deepen your connection to those roots– all are welcome.
Mary Meighan, a native of Ireland, is the founder of Celtic Journeys who offers soul journeys steeped within her native Celtic Spiritual Tradition. Mary has traveled to sacred sites across Ireland for decades renewing, sustaining, and sharing her passion for the Celtic world. She also visits the U.S. and other countries introducing Celtic Spirituality through talks and retreats, sharing her lived experience of this mystical and earthy Spirituality. Mary will be joining the immersion live from her home in Ireland.
Seán Johnson is a singer, songwriter, storyteller, and teacher of spirituality and yoga. He is the founder of Wild Lotus Yoga, Soul School Teacher Training Program, and The Wild Lotus Band. Seán's love of Ireland and Celtic Spirituality goes back to his childhood, and he did an intensive undergraduate program in Irish Studies. He has traveled to Ireland over a dozen times to deepen his connection to his ancestral homeland.
Mary and Seán have been dear friends for many years and have guided many retreats together in Ireland and the USA.
We are delighted to offer these online Celtic Gatherings with you as we move through the seasons accompanied by the Celtic Wheel of the Year sensing how journeying within this ancient, yet very much alive, Celtic Wisdom Tradition offers us a way to connect with nature and to connect deeply to our true selves.
"Seán and Mary have been friends for years, and this shows in the ease with which they work together. They present us with an array of tools and possibilities for diving into Celtic Spirituality, as each session follows the Celtic seasonal calendar. Mary brings a lifetime steeped in the tradition, and in her easy conversational style, shares poems, stories, mythology, and leads simple and profound rituals, in which we all participate from our homes. Indeed, the whole experience is like being in good company by the fireside. Seán's gorgeous voice touches the deepest parts of our nature, as he invites us to join him in the singing of chants and songs. He'll often sing in Irish. These afternoons are wonderful, helping us merge our daily lives into a timeless connection with Celtic wisdom and earthiness." — Heather Dotterweich
The Shadow is that part of you that remains unknown, yet influences every part of your life.
 
However, the Shadow isn't bad—it's just hidden. And since it's hidden, its contents unconsciously affect your mood and behaviors, often wreaking havoc and causing suffering in your life.
 
When you bring your Shadow into the light, it no longer has that kind of unchecked power over you.
 
In Facing Your Shadow, you'll explore how to uncover the hidden parts of yourself and see the secret forces at play in the world. You'll learn to:
 
• Heal and transform the parts of yourself that keep causing the same negative patterns

• Reveal your hidden archetypes and better understand their connection to the Shadow

• Unearth new strengths, insights, and wisdom—there's buried treasure in the Shadow too

• See our collective Shadows and break free from the systems that keep you docile and disempowered

• Step into your sacred calling and make a difference in a world that needs you now
 
When you commit to doing the work in Facing Your Shadow, you become fully empowered to create a life of purpose, joy, and meaning.
 
Now is the time to fully know yourself and bring your light to the world.
 
Caroline Myss is a five-time New York Times bestselling author and internationally renowned speaker in the fields of human consciousness, spirituality and mysticism, health, energy medicine, and the science of medical intuition. Her bestselling books and audio programs include Anatomy of the Spirit, Why People Don't Heal and How They Can, Sacred Contracts, and Energy Anatomy.
Andrew Harvey is a poet, writer, teacher, and mystic. He is a former fellow at All Souls College, Oxford, and has taught at Cornell University, Hobart College, and the California Institute of Integral Studies. He is the author and editor of many books, including The Tibetan Book of Living and Dying, The Hope: A Guide to Sacred Activism, and A Walk with Four Spiritual Guides: Krishna, Buddha, Jesus, and Ramakrishna.
 
EXPERIENCE THE SUBLIME BEAUTY OF SACRED CHANT WITH ADAM BAUER
A kirtan and satsang with sacred chant artist Adam Bauer is a deep immersion in bhakti—the yoga of devotion, a blissful union of hearts and voices carried on a current of music and love. With his warm baritone voice and sonorous harmonium accompaniment, Adam leads his chanting sessions with a gentle, grounded energy, guiding participants to profound levels of conscious awareness.
A lifelong student of the devotional life, Adam took vows of renunciation, poverty and celibacy at age 18, living as a monk for several years while studying the healing arts. Extensive studies in hatha yoga followed, and Adam has also been trained and certified as massage therapist, ontological coach and neo-tantric practitioner. He also spent many years as a bassist for renowned kirtan artists Krishna Das and Shyamdas, and has recorded three albums of his own devotional music— Shyam Lila (2014), Wonderville (2017) and Return to the Sacred (2022).
"Basically," he says, "I consider music and singing to be among the most intimate ways we can share and express ourselves and connect with others. For eons, all cultures have recognized the mystical power inherent in shared group musical ritual, or 'the inspiring effect of the invisible sound that moves all hearts, and draws them together,' as the I Ching puts it."
For Adam, the art and practice of kirtan is intricately bound up with satsang, which, he says "is when we gather together as truth seekers in community, cultivating a remembrance of spirit and devotion as we all navigate our paths through this wild world. Sometimes satsang involves singing, story telling or readings from inspiring devotional texts, sometimes just diving deep into silence or conversations that explore and enliven our connection with Life and all its radiance."
For the past 30 years, Adam has been based on an old farm in rural Massachusetts, where he leads healing sessions, special events and retreats. He also tours extensively and leads livestreamed events, sharing his music and loving presence with people hungry for a nourishing alternative to the pace and practices of modern living. For him, it's all part of seva—compassionate service for the benefit of all beings.
"As a singer," he says, "it's my job to nourish and cultivate my essential, loving nature, so that I can be like a hollow bone that allows the presence, joy and ecstasy of the universe to channel through me in a clear and open way."
2x Grammy Winning/Multi-Platinum selling Pianist/Composer Peter Kater has been a leading innovator of contemporary instrumental music for over 3 decades. He's received many awards and accolades for his rich and diverse music including 14 Grammy Award nominations and two Grammy wins. He's released over 70 critically acclaimed recordings and has scored the music for over 100 television and film productions including 11 On & Off-Broadway dramatic plays. From solo piano and contemporary jazz ensembles to full orchestral works, his cross-genre music is heard all over the world from the Olympics to Carnegie Hall. He is known for his many groundbreaking collaborations with musicians such as Native American flutist R. Carlos Nakai; Sting guitarist Dominic Miller and Sacred Chantress Snatam Kaur. And as an avid environmentalist and humanitarian Peter is a proud recipient of the Environment Leadership Award from the United Nations.
We all know what it's like to be triggered—to have said something we wish we hadn't, or reacted in a way that wasn't helpful. What if there was a way to interrupt our knee-jerk responses? Bestselling author and American Buddhist nun Pema Chödrön offers a liberating teaching called shenpa for disarming reactivity, and offers tools for putting it to work in our own lives.
What You Will Receive:
Six Video Learning Sessions with Pema Chödrön
Pema Chödrön offers six video sessions of insights, stories, and practices for incorporating the Tibetan Buddhist teachings of shenpa into your life.
Two Video Sessions with Glenna Olmsted
Glenna Olmsted, senior student of Tsoknyi Rinpoche and Pema Chödrön, leads two video Q&A with participants from the live course.
Complete Downloads of All Course Materials
The entire program of The Freedom to Choose Something Different is yours to keep and enjoy.
Finding Freedom through Seeing How We Get Hooked
In The Freedom to Choose Something Different, Pema Chödrön shares the liberating wisdom of an approach that she uses in her personal daily practice, along with tools for putting it to work in our own lives. Join her for six online sessions of video teachings and two recorded Q&A video sessions with Glenna Olmsted, senior student of Tsoknyi Rinpoche and Pema Chödrön. This complete learning experience includes practice tips, reflection questions, and guided meditations for learning how to recognize the moment-by-moment choice points in our lives.
Highlights:
Shenpa, an ineffable Tibetan term that attempts to describe the quality of getting hooked, and a practice for getting unhooked
The Three Difficult Practices, and Pema's expert guidance on how to use them for positive transformation in your life
Ways to unravel patterns of self-denigration
How to cultivate acceptance of your irritability, insecurities, and other less noble human traits
The power of pause, a simple practice that makes a big difference in our daily lives
How staying with discomfort can help us uncover our innate wisdom and confidence
The dynamic, fluid nature of groundlessness and how it can help transform your habits, addictions, and behaviors
Guided contemplative practices for cultivating the awareness of shenpa in everyday life
Two Q&A sessions recorded with live course participants with Glenna Olmsted, senior student of Tsoknyi Rinpoche and Pema Chödrön
Note: The previous release of this course was titled Getting Unstuck: The Freedom to Choose Something Different.